Physical Activity and Post-COVID/Long-COVID
Effects of Different Training Modalities on Physical Performance, Heart Rate Variability, Inflammation, Health-Related Quality of Life, Cognitive Function and Post-COVID/Long-COVID19 Symptoms
The current COVID-19 pandemic is the most severe health crisis of the 21st century to date. This does not refer solely to the deaths that have occurred. A significant proportion of people who were affected by COVID-19 and supposedly recovered may suffer from long lasting sequelae. If symptoms persist for three months or more after the acute phase of the disease, the condition is referred to as Post-COVID-19 syndrome or Long-COVID-19. It is estimated that about 20% of all infected individuals are affected. The most common symptoms are fatigue, breathing difficulties, persistent loss of smell and taste, muscle pain, and neuropsychological complaints such as depression, anxiety disorders, sleep disturbances, or difficulty concentrating. Furthermore, many affected persons state that their physical performance is still limited since the COVID-19 disease.
Given the novelty of the condition, there is little evidence on the treatment of Post-COVID/Long-COVID. Physical activity has been established as a therapeutic tool for similar chronic conditions. For example, exercise can have positive effects on the health status of individuals with pulmonary disease, depression, anxiety disorders, sleep disorders, and cognitive deficits. However, particular caution has to be taken when symptoms such as exercise intolerance (post-exertional malaise; PEM) and severe fatigue suggest the presence of post-viral fatigue or chronic fatigue syndrome (ME/CFS). In this case, referral to specialty outpatient clinics is advised.
It can be assumed that a subgroup of individuals affected by Post-COVID/Long-COVID who do not experience worsening of symptoms after physical, emotional or cognitive stress may benefit from physical activity. It is particularly important that both the volume and intensity of the exercise is increased slowly and progressively.
The research project "Physical Activity and Post-COVID/Long-COVID" will investigate the effects of two different types of training (endurance vs. concurrent training) on different health parameters in affected individuals. It is a randomised control trial and participants will be allocated to either one of the two training groups or the control group. After the 12-week study phase people in the control group can also participate in the training program.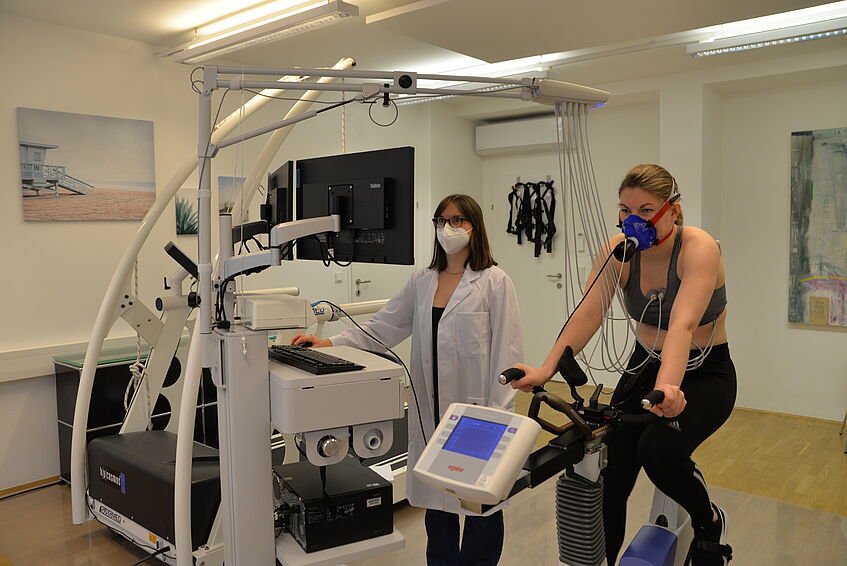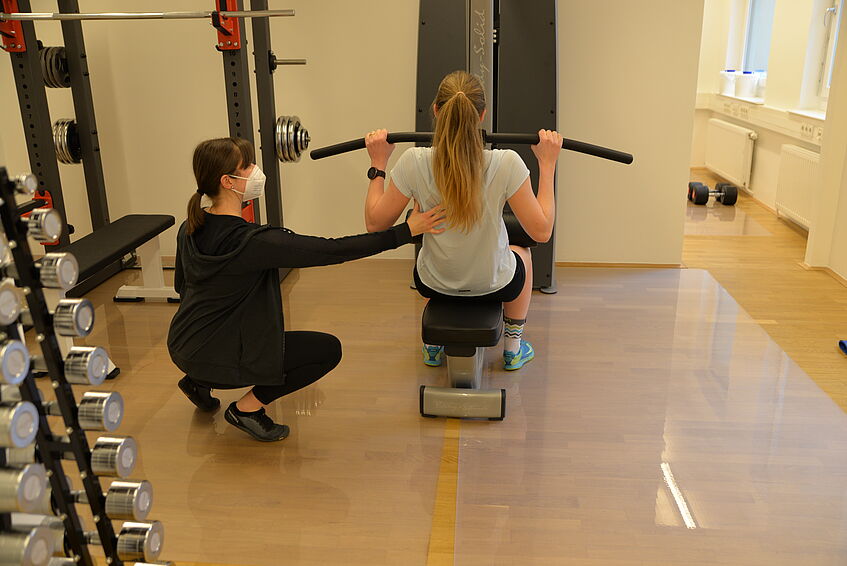 Participants wanted in Vienna!
Your infection with SARS-CoV-2 was at least 3 months ago?
You were not hospitalized due to COVID-19?
You still suffer from symptoms or feel like your physical capacityis has not yet been fully restored?
You did not praticipate in a regular endurance or resistance training regime (more than once a week) in the past six months?
You can tolerate physical stress without a worsening of symptoms?
You can imagine to commit to a thrice weekly training program for twelve weeks?